27 Holes of Championship Golf in Leland, NC
Located in the Magnolia Greens community of Leland, North Carolina, Magnolia Greens Golf Club offers 27 holes of championship golf, and is recognized as one of the top golf courses in the Southeast United States. The well-groomed fairways and greens help Magnolia Greens maintain a challenging, yet approachable course for players of all skill levels.
Learn more about Magnolia Plantation amenities.
Magnolia Greens Golf Plantation Quick Facts
Year Built: 1998
Fairways: 419 Bermuda
Greens: Champion Bermuda
Seasonality: Open Year Round
Architect: Tom Jackson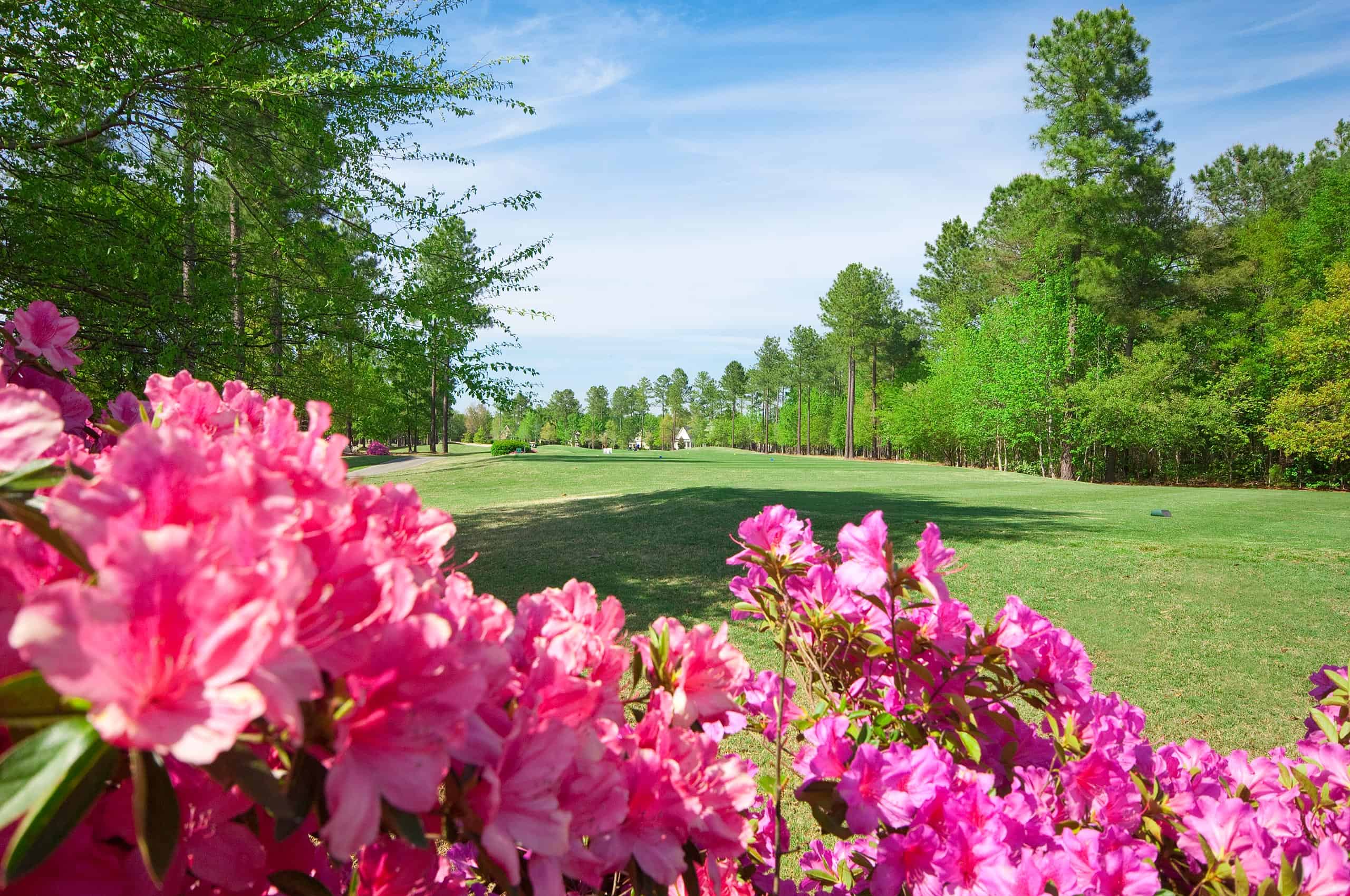 About the Magnolia Greens Golf Course Facilities
Magnolia Greens Golf Plantation offers 27 holes of championship golf, divided into three nine-hole courses: Magnolia, Camellia, and Azalea, each named after flowers local to the Leland/Wilmington area. The Magnolia and Camellia are played together to create an 18-hole championship course, while the Azalea nine offers a quicker round of golf that appeals to players of all skill levels. Players are also welcome to play the Azalea along with the Magnolia and Camellia, allowing golfers to create their own unique golf experience!
The championship course is the most challenging of the three golf courses, and features water hazards on nearly each of the 18 holes. Along with plentiful water hazards, the championship course challenges golfers with trees and bunkers, while offering a beautifully landscaped setting.
Players who are new to golf or who don't have their own set of clubs are welcome to rent clubs at Magnolia Greens Golf Plantation. Rental clubs start at $40 for 18 holes of play, and $25 for 9 holes of play.
In addition to the three golf courses, Magnolia Greens Golf Plantation also features a driving range, where members and the public are welcome to sharpen their skills. The driving range offers golf ball rentals at $3 for a small bucket (25 balls), $7 for a medium bucket (65 balls), and $12 for a large bucket (120 balls).
Golf Pro Shop and Clubhouse
It wouldn't be a golf community without a pro shop and a clubhouse! The golf clubhouse offers a place for golfers to relax before or after a round, and also includes Blossoms restaurant. The Golf Store at Magnolia Greens is a full-service golf pro shop offering everything a golfer could need. The Golf Store is well stocked with golf attire, footwear, and accessories for year round play, as well as a wide selection of drivers, putters, wedges, hybrids, iron sets, and other golf equipment.
The Golf Store at Magnolia Greens also offers golf club repair services to help you get back in action. From shaft work to grip repair, The Golf Store prides itself on top-class repair work and quick turnaround times, with most repair work being complete the same day.
Blossoms Restaurant at Magnolia
Magnolia Greens Golf Plantation is home to Blossoms, a full-service restaurant serving breakfast, lunch, and dinner for golfers and the community. They accept reservations, and offer indoor as well as outdoor seating. Whether you're looking to stop in for a bite to eat or to enjoy a cold drink with a nice view after a long day of golf, Blossoms restaurant is an excellent compliment to the beautiful golf courses of Magnolia Greens.
Golf Outings and Tournaments
Magnolia Greens Golf Plantation offers flexible plans for golf outings and even private tournaments. Whether you're playing with a small group or an entire company with more than 200 golfers, Magnolia Greens can work with you to plan the perfect outing. Tournament options include full planning and organization services, food and beverage options, instruction, gifts, event promotion, and so much more.
Ready to make Magnolia Greens Plantation your home?